Stones whether polished, faceted, or in the rough, are an important part of MeritMade jewelry. Each stone has a unique and inspiring story. Sometimes the story is a stone's metaphysical properties, other times it is the lapidary artist, the material, or perhaps where it was mined. At MeritMade we truly believe in the power of these stories, and It is important for us to share these with you.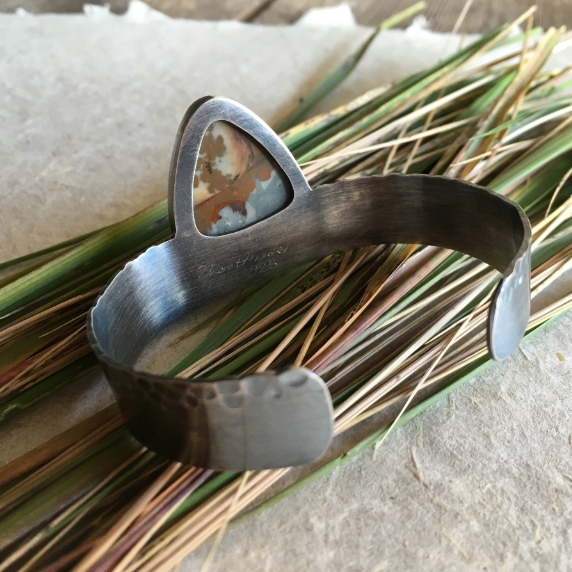 These pieces, in the recently created Desert Collection, are made from Rocky Butte Picture Jasper. It is found near the Owyhee River in Eastern Oregon.
More broadly speaking picture jasper is a form of Brown Jasper. It can easily be identified by the patterns in the stone that often look like landscape paintings. The pictures and patterns, which are basically petrified mud, are made from flow or deposits by water and/or wind.
While picture jasper can be found all over the world, specific colors or patterns are unique based upon the geographic region from which they originate. Oregon's Owyhee jasper is known as a particularly fine example, and Rocky Butte is one of the most prized and recognizable picture jaspers from the Owyhee area.
Metaphysically speaking it is easy to see why it is considered a grounding and harmonizing stone with a strong connection to the earth. It is said to promote feelings of responsibility towards the planet, encouraging a need to care for and protect it. This earth-centric grounding energy can give you a strong sense of who you are, where you've been and where you are going. It is said to encourage creative visualization, creativity, and business pursuits.
If you are interested in purchasing a piece from the desert collection click on over to the shop. If you would like to commission a piece made from picture jasper you can contact us here to begin the process.
xo, Kelly